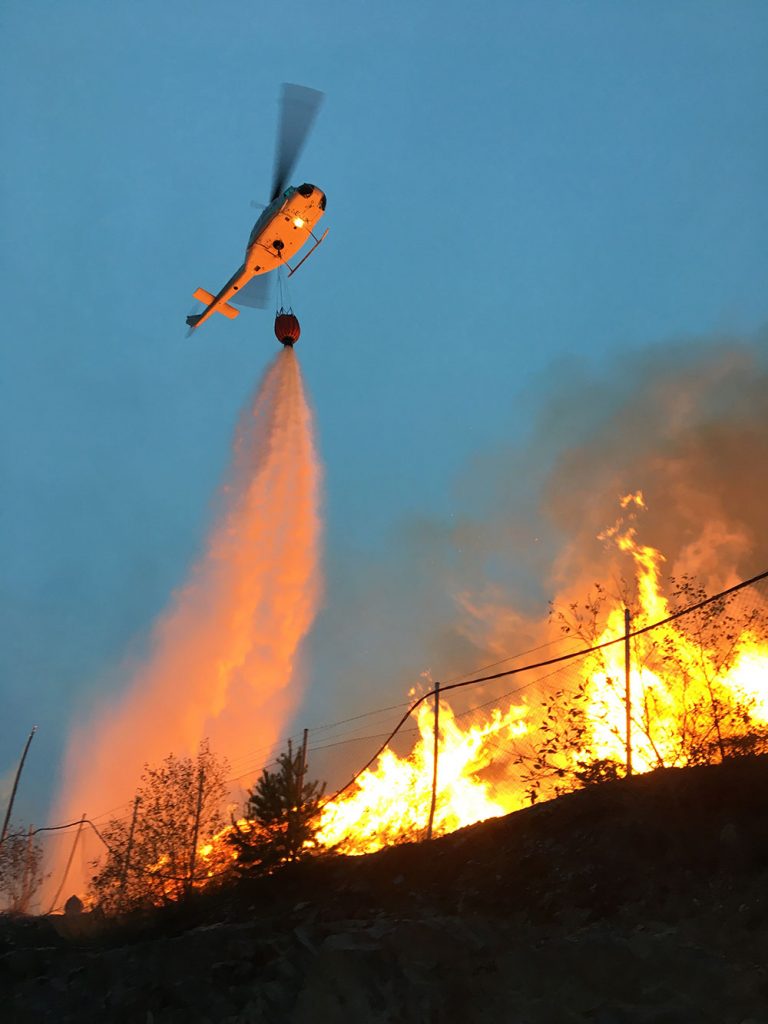 Do not hesitate to contact us to find out more about our aerial fire fighting capabilities…
HeliAir Sweden has participated in a large number of fire fighting operations throughout the years. In Sweden, we are by far the helicopter operator who has flown the highest number of hours fighting fires, and thus, we have a high performance organization trained and tested in aerial fire fighting. Our capacity for this is unsurpassed in Sweden today.
Operational readiness
Our fleet constantly consists of some 10 helicopters, all of which can be deployed at short notice. At our main base, there are always at least two pilots on standby around the clock, and when necessary, we can quickly call in as many pilots as needed. From Västerås, we reach from Sundsvall in the north and down throughout the southern half of Sweden within a couple of hours, and once in place we can deliver a sustained effort until the fire is extinguished.
All our pilots are certified in aerial fire fighting, and are regularly trained in all elements included. This is done to assure that we perform our services in the most efficient and secure way possible considering the demanding conditions usually prevailing during a fire.
HeliAir Sweden owns 21 so-called Bambi buckets, the collapsible water containers used in aerial fire fighting. Depending on the type of helicopter, the capacity ranges from approximately half a cubic meter up to 1750 liters.
Support organization
In order to provide a continuous effort, we have the ability to place our own tankers with a capacity of 18 and 20 cubic meters at the location. In a typical fire fighting scenario extending over time, refueling represents a mere 2-3 minutes per hour flown when we are established with our complete set-up in place.
Our technical organization possess mobile helicopter workshops, so called Line Stations, approved by the Swedish Transport Agency. This means that we are fully mobile also with regards to the servicing and maintenance of our helicopters and related equipment. Supervision, maintenance and repair of helicopters and other equipment is carried out on location with the same technical ability as at our main base.
Ho do we do it?
At the initiation of an aerial fire fighting mission, our operations department issues a Flight Order. It contains all the information the pilots need to know about the mission, such as location of the area, contact persons, security, information about the fire, etc. During the ferry flight to the area of ​​operations,the collapsible water container is carried inside the helicopter and then assembled quickly on site upon arrival, all in order for us to commence with our efforts as soon as possible.
While the first helicopters take off from our base, the mobile support organization is activated, and the support vehicles in form of tanker(s) and mobile workshops begin the journey to the mission area. More pilots arrive and lifts as to participate in the operation.
What can we do other than pour water from above?
In addition to water bombing from helicopters, we can also assist with:
Transport of personnel to and from the fire fighting areas
Rapid movement of equipment and materials with a lifting capacity of up to 1750 kg
Fast evacuation of people from areas threatened by fire
Using heat-sensitive infrared cameras that "see" through smoke and record the GPS location in real time, assist in dispatching resources where new hotbeds flare up before the fire gets a stronghold
A number of technical solutions for live monitoring, filming and support to operational command